Related pages : History of Fornells, Nature, Beaches of Menorca
Ecomuseum in Cap de Cavallería
From these pages we recommend you to take a walk through the history and culture of Menorca by visiting this museum and school located in the north of Menorca, only a short distance away from Fornells. The proximity of the Ecomuseum to the virginal beach of Cavallería makes it possible to combine a day in the sun with a cultural visit.
The Ecomuseum has become an institution in Menorca. In the Santa Teresa house there is an exposition room where the public visitor will receive valuable information about the natural and cultural heritage of the Menorcan territory.
The visitor of the ecomuseum will obtain general information about this territory by means of different audiovisual systems, scale models, scenarios and exhibitions of the archelogical materials of the excavations in the Sanitja port. The exposition is translated into six languages: English, Spanish, Catalan, German, French and Italian.
The exposition 'A world to discover' gives an introductory vision about the talayotic culture previous to the roman conquest. Afterwards it depicts the life during the roman occupation and the diverse aspects of the roman campaments: coins, arquitecture, economy...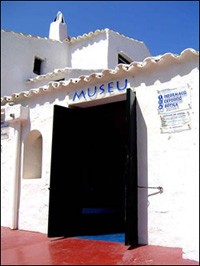 School of Archeology

The school of archelogy in the Ecomuseum has excavated an area of the roman camapament (123a.C. - 50a.C.), to discover the buildings destinated to serve as warehouses and as houses for the soldiers. This was part of the programme scheduled for the summer of 2005. Every year, courses are provided to cover the theoretical and practical aspects of archelogical work. These courses are held in Spanish and English. If you wish to have more information please check on the museums´website by clicking on the link at the bottom of the page.
How to get there: from Fornells it takes about 10 minutes by car to reach the Ecomuseum. On the road from Fornells to Mercadal, at two kms. departing from Fornells, you will find an exit on the right indicating the direction to Cala Tirant. From there all you have to do is continue the indications which will take you 9 kms. through a truly beautiful narrow country road with a great view and samples of Menorcan landscapes. This is a highly recommendable trip by car or bicicle, don´t miss it!
For further information please consult the website: www.ecomuseodecavalleria.com