Playas de Fornells
Related pages:Menorca, Map of Menorca, Fornells, Cala Galdana, Son Parc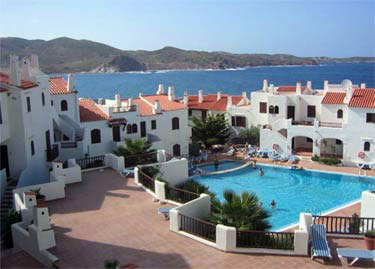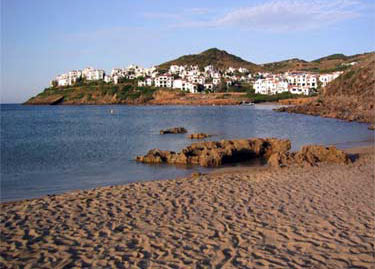 A few minutes distance from the harbour of Fornells, you will find the urbanization Playas de Fornells. Undoubtedly this is one of the most beautiful residential areas on the whole island of Menorca thanks to its groomed architectonic style and excellent situation. Its location provides marvelous views across the sea and the natural Marine Reserve of Cavalleria. These characteristics distinguish Playas de Fornells with a unique character which is specialy appropiate for those persons seeking for peace and tranquillity surrounded by nature.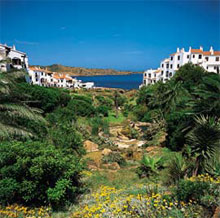 Far from the effects of mass tourism, Playas de Fornells is constituted by small apartment complexes and private properties which are true to a tipically Mediterranean construction style.
The delicious contrast of the white colour of its buildings with the pure blue of the sea, is reinforced with the care put into the gardens and installations.
Very close and with pedestrian access from practically all of the urbanization, you can reach the beach of Tirant. From its sands you will be able to enjoy panoramic views over the bay and sea.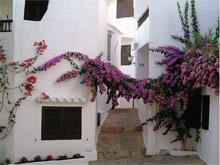 The beauty of the unspoilt beaches of Menorca and its crystalline waters are famous in all the world and from Playas de Fornells you will have a perfect base camp from which you can explore the island.
If the available services offered in Playas de Fornells are taken into account, it is almost unfair to cualify it as an 'urbanization'.
Even though it is very near to Fornells and Mercadal, here you can find: restaurants, bars shops, a bus stop, car rentals, etc. Playas de Fornells can be reached in approximately 20 minutes from the airport and in not more than half an hour you can comfortably access any spot on the island by car.